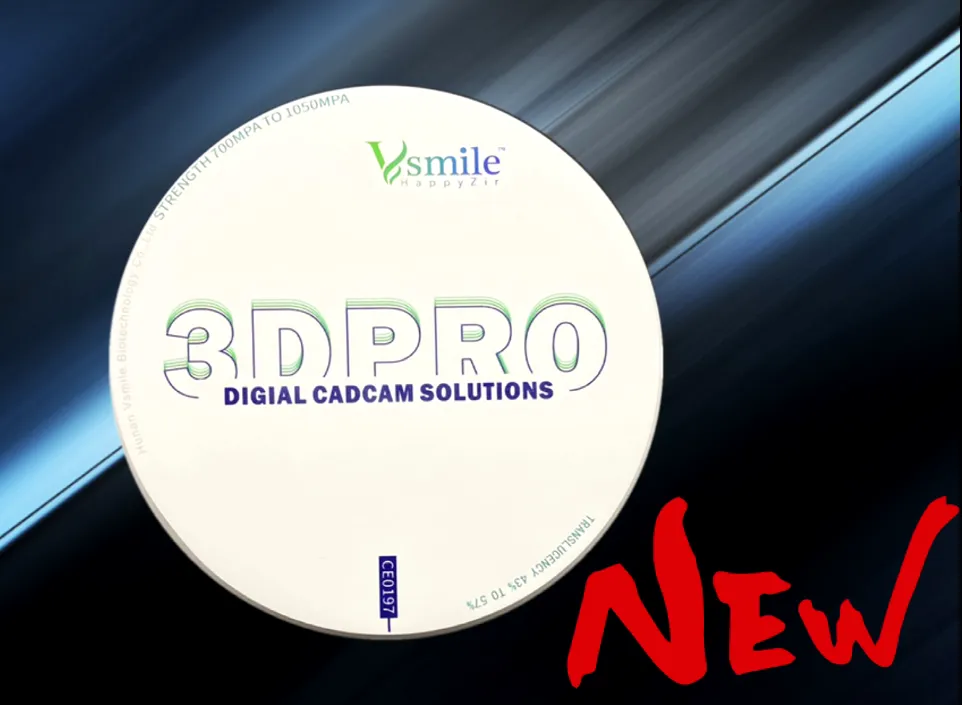 Compared with the old design simple LOGO ,
The new design is more three-dimensional, beautiful and more detailed on it.
So do you prefer the new design or the old one?
Either way, the quality of the 3D is still excellent.
Take a look at our new design through the following video.
If you have any suggestions, Warmly welcome to propose!
HappyZir 3D Pro Multilayer
6 layers Multilayer Color

43% to 57% gradient for translucency

Strength gradient from 700Mpa to 1050Mpa

Suitable for anterior, crown and 6 unit bridge

Vita 16 shades + OM1, OM2, OM3 Bleach

Sinter at 1500℃
Compare 3D Pro to 3D Prism
3D Pro Multilayer
Strength: 700MPA to 1050MPA

Translucent: 43% to 57%

Color: Vita 16 shades + Vita OM1, OM2, OM3

System: 98mm and 95mm

Size: 10mm to 25mm

Gradient: 6 layers gradient

Indication: all in one except Max> 7 units bridge
3D Prism Multilayer
Strength: 700MPA to 1200MPA

Translucent: 43% to 57%

Color: Vita 16 shades + Ivocar BL1,BL2,BL3,BL4

System: 98mm,95mm and D Shape Aman Girrbach compatiable

Size: 10mm to 30mm

Gradient: 9 layers gradient

Indication: all in one, >7 bridges available