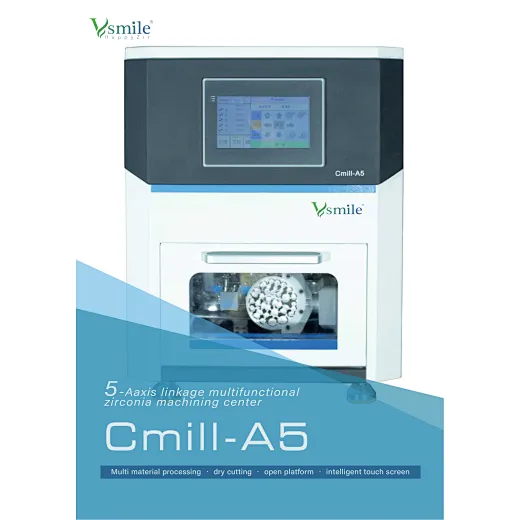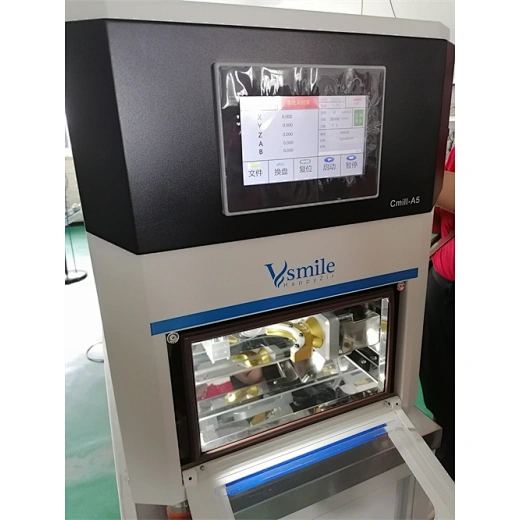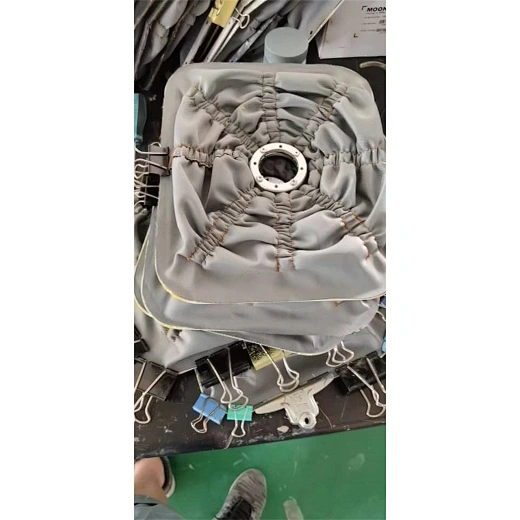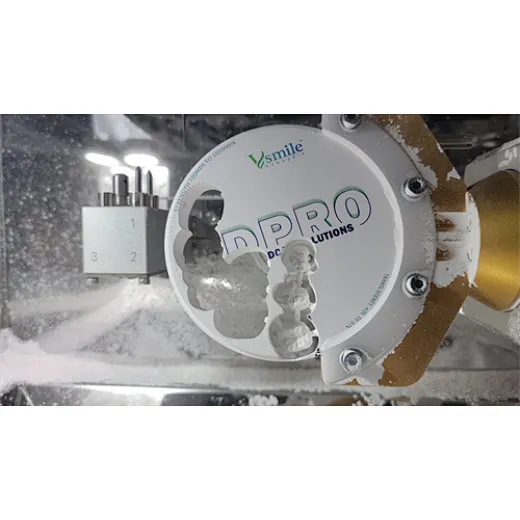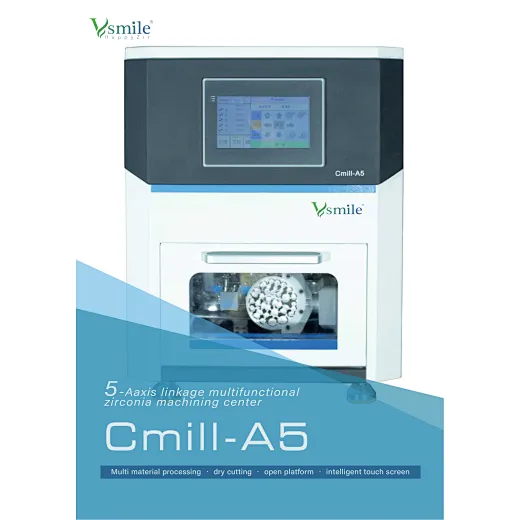 5 Axis Dental CADCAM Milling Machine
Cmill-A5 5 Axis
Supply Ability:
50piece / Month
Country of Origin:
Changsha
Vsmile 60w Dust Collector
Vsmile Cmill-A5 5 Axis Dental CADCAM Milling Machine
Description
A5 is a table-top, 5-axis, numerically controlled milling/grinding machine, very easy to use, with 5 axes interpolated continuously. It can mill almost any dental item (crown, bridges, models, full dentures, etc.) in any "soft" material (wax, PMMA, PEEK, other resins, composites, zirconia, aluminium , etc.) or grind hard materials such as ceramics, lithium disilicate, etc.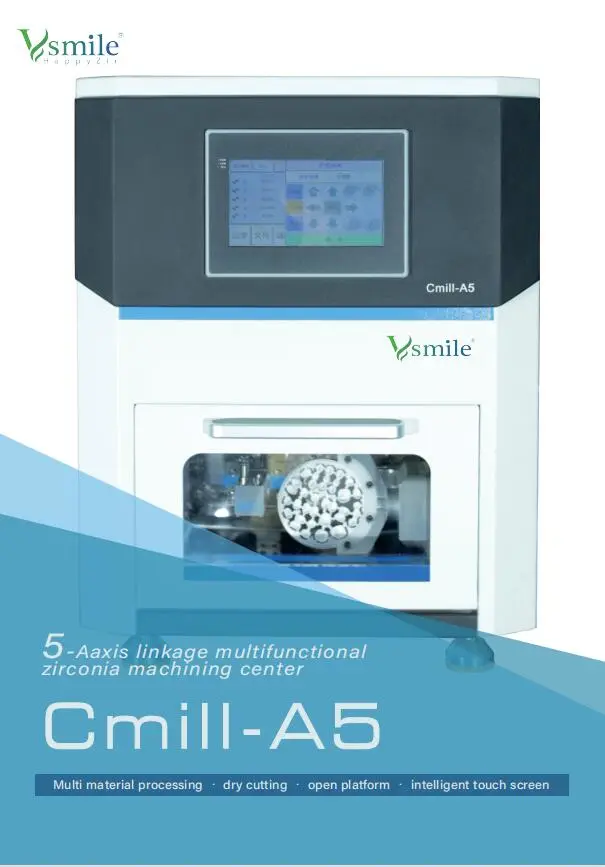 A5 – TECHNICAL SPECIFICATIONS
Open system
Use of standard STL files in input for the best compatibility with other components of the system. No commitment to use our materials / tools and no mandatory yearly software updating: it will work forever even if not updated. And you can also decide your colour (RAL table) or in carbon fibre.
The Highest Precision
Movement on XYZ axes with precision ball screws and backlash recovery, directly driven by brushless motors with precision encoders for continuous position check.
The 2 rotary axes play with the same motors and zero backlash harmonic drive gearboxes.
5 Axes
Continuous Interpolation
5 axes managed in continuous are needed for modern implantology, which places implants in the optimum position and optimum angle, with no restriction. For simpler jobs, 5 axes are often useful to reduce the blank thickness (less time and less consumption of materials and tools).
Cloud
Thanks to Vsmile platform, the client can manage his milling machine from any place in the world – by browser / App and a PC or tablet or smartphone – likes he does by the touch screen monitor of the machine itself. In addition to that, the platform offers several additional services, such as remote diagnosis and maintenance, info on preventive maintenance, etc. and even the possibility of exchanging work between laboratories, to cope with a high workload. 
| | | | |
| --- | --- | --- | --- |
| BQ | Cmill-A5 | / | 5 Axis linkage multifunctional zirconia machining center |
| | | | |
| | Name | | Technical Parameter |
| | Axis | | 5 Axis |
| | Input Voltage | | One way communication |
| | Weight | | 104KG |
| | Cutting way | | Dry + Vaccum cleaning |
| | Spindle cooling | | Water cooling +Air cooling |
| | Tool number | | 3pcs axes |
| | Tool change | | Automatic |
| | Maximum spindle speed | | 60000r/min |
| | Operating power | | 2.84KW |
| | External size | | 680mm*540mm*670mm |
| | Compressed air | | 0.45Mpa pure air |
| | Positioning accuracy | | 0.005mm |
| | Fixture | | single disk: S 98min |
| | Product type | | Crown/Bridge/Inlay/Bracket/Veneer |
| | Processing materials/ | | wax/zirconia/resin thickness:10-25mm; PEEK PMMA |
| | & Average processing time | | tooth model:30-40min; zirconia: 6-8min; |