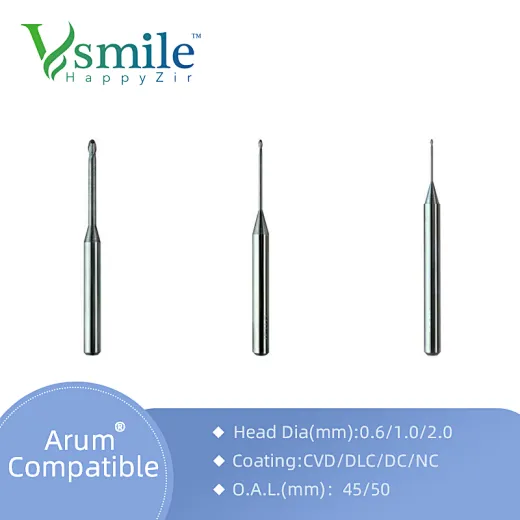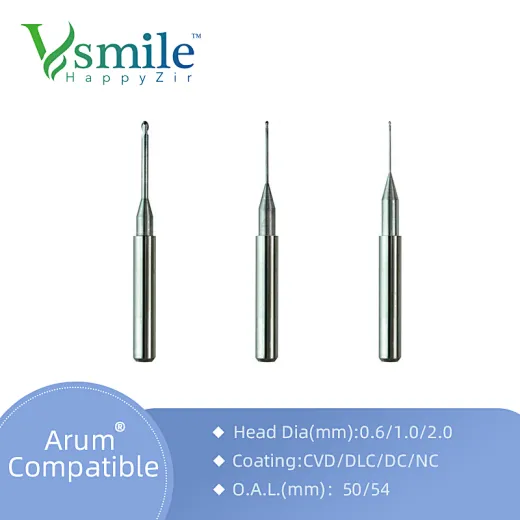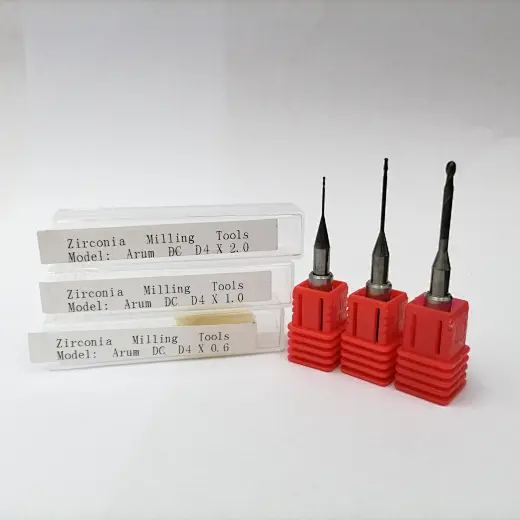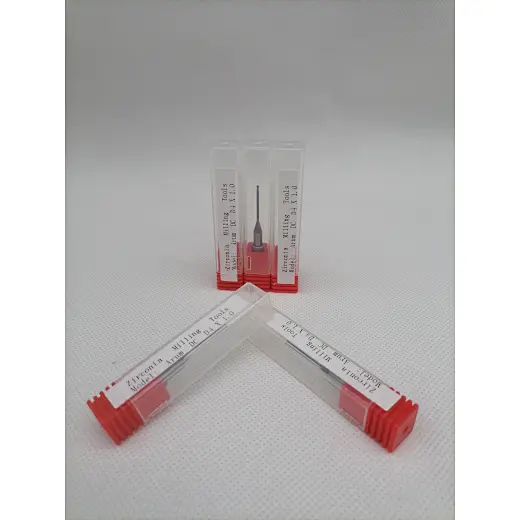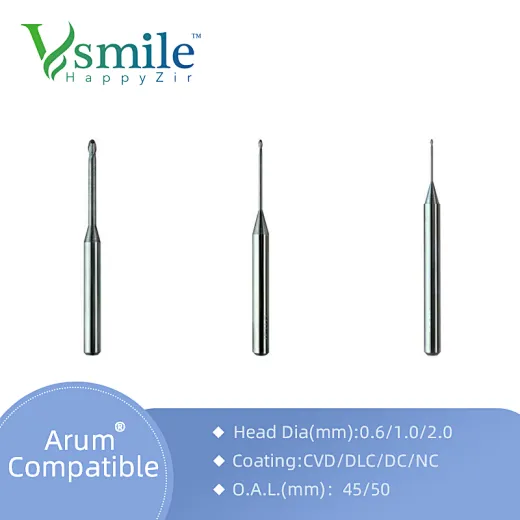 cad cam diamond cutter Arum milling burs for mill zirconia block
Arum milling burs for zirconia block
Supply Ability:
30000piece / Month
Country of Origin:
Changsha
cad cam diamond cutter Arum milling burs for mill zirconia block
Vsmile Milling Burs Arum ® Compatible
Vsmile  provide the top quality of different burs worldwide with most competitive price.
Two coatings burs available for different materials:
DLC Coating, coating like diamond. which is the coatings of burs for different materials like zirconia, wax, pmma, peek, etc. (non-metal products)
Which is more suitable for the milling machine mill similar quantity of different materials. 
Milling Quantity: 120-150 units ( mostly stable batch could mill 100 units without any problems )
Diamond Coating, which is most popular coatings around the world, which is mainly works for zirconia because of its characteristic.
Which is more suitable for bulk zirconia milling machine,
Milling Quantity: 300-500 units ( mostly stable batch could mill 800 units without any problems ) 
Compatible With Arum For Zirconia / PMMA / Wax Milling
Shank Dia.(mm)
4.0
4.0
4.0
6.0
6.0
6.0
Head Dia.(mm)
2.0
1.0
0.5
2.0
1.0
0.5
Overlength(mm)
50
50
45
55
54
50
Coating
Diamond/Diamond Liked/Uncoated/Rainbow
Compatible With Arum For Emax / Glass Ceramic / Lithium Disilicate Milling
Shank Dia.(mm)
4.0
4.0
4.0
4.0
Head Dia.(mm)
2.5
1.5
1.0
0.6
Overlength(mm)
44
44
44
41
Compatible With Arum For Metal Milling
Shank Dia.(mm)
6.0
6.0
4.0
Head Dia.(mm)
3.0/2.0/1.5/1.0
2.0/1.5
2.0/1.5/1.0
Overlength(mm)
50
50
50
Head Shape
Ball End
Flat End
Drill Mill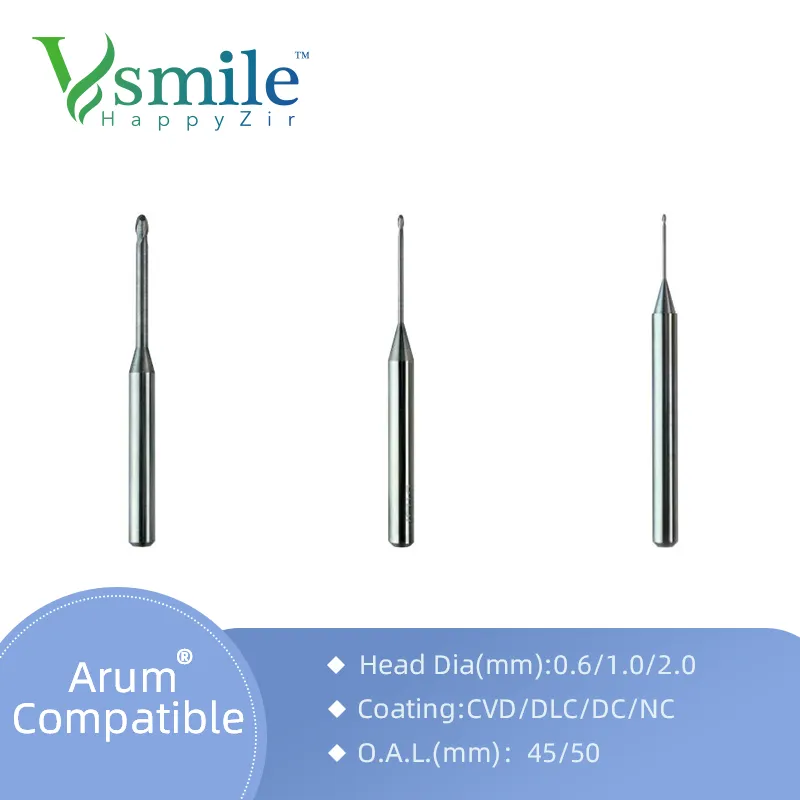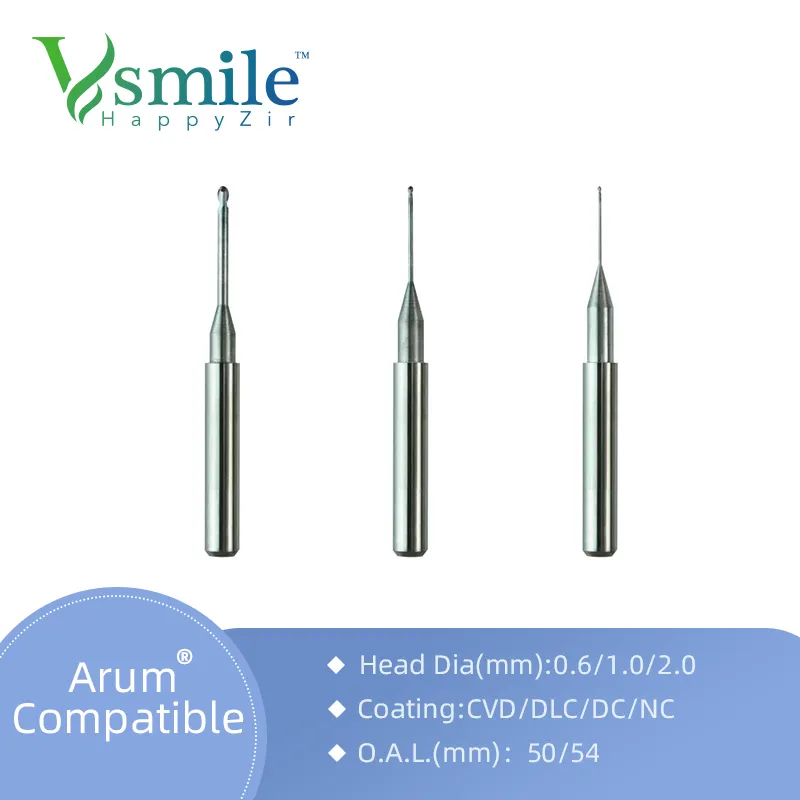 Arum CAD/CAM Dental Milling Bur
Model:
Arum 5X-200
Arum 4X-100
Arum 450 Series [5X-450]
Arum 450 Series [4X-450]
Arum 5X-400
Arum 300 Series [5X-300/300D]
Arum 300 Series [4X-300/300D]
Material: Tungsten Steel
Coating: CVD Diamond Coating / PVD Diamond Coating / Diamond Liked Coating / Professional Coating for Emax grinding
Packaging: Individually packing